Ulrika Spacek w/ Holy Wave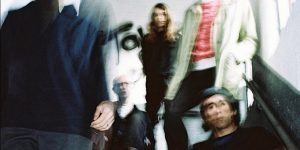 ULRIKA SPACEK
Ulrika Spacek today announce their long anticipated third album Compact Trauma, to be released on 10th March via Tough Love. Close to five years on from their last transmission, the album sees them return from self-imposed exile with a collection of songs that function as a chance treatise of sorts for our current collective condition. Opening track and first song written for the album, 'The Sheer Drop', details a turbulent time for the group, which saw them lose their shared home and place of recording 'KEN' where their first two albums were created. A wire-taut exercise in tension-and-release rendered in three parts, 'The Sheer Drop' features a whimsical synth opening giving way to characteristic chiming guitars before a nail-biting coda sets its controls for the heart of the sun or the end of the world, whichever comes first. Either way, it's a hell of a way to reintroduce yourself after a five year absence.
The ominous opening line of 'The Sheer Drop's "Homerton's caving in, a cut throat throw out time's upon me" forebodes an album written in uncertainty and change, with the song's title itself alluding to the ominous potential to fall when the floor beneath your feet is moved. "As was the case with the other two records, the first thing you write not only feels an opener to the record but a grip on something that allows you to go elsewhere," explain the group, "We always enjoyed the false start that this song has, it's misleading and kinda a play on the cliche that a band returns after some years and make a synth pop album. In many ways it's a song in 3 parts, with the last section sounding like our world falling apart". The song's video is a stunning meta depiction of paranoia and intrusive thoughts made by long term collaborator Kyle Macfadzean shot in Hackney Wick last month. The Sheer Drop is a plunge forward in terms of composition and production and offers an insight into an album's worth of songs, soon to appear in the world. Watch the video now [insert]
Back in mid 2018, approaching exhaustion and feeling increasingly fragile from the stresses of itinerant road life, the five-piece of Rhys Edwards, Rhys Williams, Joseph Stone, Syd Kemp and Callum Brown began work in earnest on the follow up to their second album, Modern English Decoration.
The band's previous albums had both been recorded in KEN, a studio and rehearsal space in Homerton. As writing for album three began, KEN suddenly became a victim of gentrification. Writing and recording was then abruptly shifted to a professional studio in Hackney, only the second time they had worked in such conditions, and tensions and logistical difficulties soon took hold. The enforced switch to an unfamiliar locale would have been discomforting enough, but when allied with the fractures already beginning to splinter through the band, it made for an especially frazzled experience. Somehow, a record began to emerge piecemeal from the gloom, though it was one obviously infected with its circumstances. And then, at an impasse of sorts and with a record halfway complete, the world suddenly put a stop to things. Compact Trauma was filed away, unfinished and unheard, possibly to remain that way forever. And yet, there was to be a second act. The wound, as the saying goes, is the place where the light enters you.
The prolonged break enforced by world events as much as their own circumstances may have separated the group but it also afforded them time to reflect… as the lights came back on and the shutters up, they found themselves drawn back towards the album and found it's songs addressing existential freak out, displacement, substance reliance and encroaching self-doubt seemed to take on a wider significance, speaking in part to a bigger narrative.
Opening track, 'The Sheer Drop', begins with the line "Homerton is caving in"; 'It Will Come Sometime' describes a "liver like a lightbulb and swelling"; while 'Lounge Angst' laments, "seems my friends grew up or left". The fear and panic in the record is palpable. The lyrics are matched to a soundtrack that oscillates between the febrile and the off-kilter, unconventional song structures and knotty arrangements either spinning the listener in unexpected directions or offering some kind of cathartic release. 'If The Wheels Are Coming Off, The Wheels Are Coming Off' is a lacerating exposition of self-doubt that bursts into ecstatic release at its climax, demanding repeat listens, while 'Stuck At The Door' is an 11-minute Pacific North West-style epic that threatens, "the worst of it's to come". But it's the title track that might be the true heartbeat of the record. Either addressing itself or some unknown assailant, it begins by demanding that they "take your hands and your head off the table", while spiralling around a breathless riff fueled by an infectious anxious energy, before changing tact completely and shifting to a lullaby-like finale, concluding with the ominous thought, "compact trauma? Or full blown disaster? I'll be back in an hour (Or so i think)". It's a fitting encapsulation of a highly complex record. They could have left it alone, but in coming back to what they knew, Ulrika Spacek have found their best work yet.
HOLY WAVE
Holy Wave is a band of multi-instrumentalists from El Paso, Texas, USA. Since making a move to Austin in 2008, they have cemented themselves as a unique force in the national and international touring circuit. After perennial performances at Levitation (Austin Psych Fest) and countless tours and festival appearances in the USA, Europe, Latin America, and Africa, Holy Wave is poised to continue expanding into new spaces and places around the world. The band has 4 critically-acclaimed LPs and 3 EPs (The Reverberation Appreciation Society) under their belt, and will be releasing a digital single through Suicide Squeeze in July 2022. They are currently in the studio working on new material for LP 5.