The R. Carlos Nakai Trio, featuring William Eaton & Will Clipman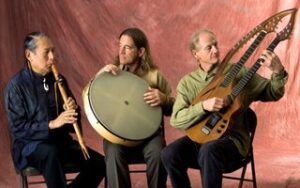 The world's premier Native American flutist, harp-guitarist, and worldbeat percussionist come together for a remarkable night of music spanning from soothing dreamscapes to mesmerizing trance dance grooves. These three dear friends and virtuoso musicians have been performing and recording together for thirty years, collectively receiving twenty Grammy nominations.
Nakai, Eaton, and Clipman elevate contemporary instrumental music to inspirational new heights, seamlessly weaving extraordinary improvisation into the lush tapestry of their original compositions for an experience of live sonic synergy that is not to be missed.