The Mercury Tree with Wilgira and Thurst Trap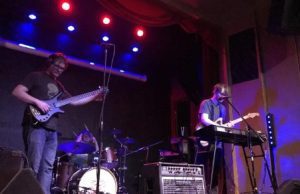 Hailing from the creative hotbed of Portland, Oregon, The Mercury Tree is a band that defies categorization. Their unique sound blends elements of progressive rock, metal, jazz, and avant-garde, resulting in a sonic landscape that is both intricate and accessible. Their music has been compared to the likes of King Crimson, Frank Zappa, and Tool, yet they maintain a sound all their own, one that is both challenging and rewarding for the listener. Since forming in 2006, The Mercury Tree has released six albums to critical acclaim. They have performed at numerous festivals across the United States.
With ABQ's Thurst Trap (Synth Punk) and Wilgira (Prog/Experimental Rock)
21+ Food and Beverages available for purchase. On the outdoor stage (weather permitting).