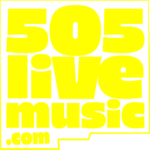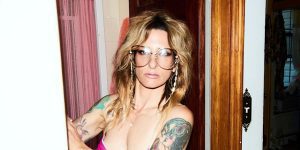 There's something undeniably out-of-time about both Kendra Morris and her indelibly cool new album I Am What I'm Waiting For (Karma Chief Records). It combines rough-hewn powerhouse vocals with arrangements that betray both an extensive record collection and a whimsical instinct for joyous noises — think Dusty Springfield fronting Spoon circa Kill The Moonlight or a 60s girl group creative directed by Nick Lowe and PeeWee Herman. It's vibrant and varied and packed with personality.
"How do you put yourself into a record? Torbitt and I wanted to make it feel like you cracked open the ooze in my head," Morris says, referring to her co-writer and producer Torbitt Schwartz AKA Little Shalimar (Run The Jewels). Morris is an accomplished visual artist and stop-motion animator, so it's appropriate that I Am What I'm Waiting For takes a collagist approach, mischievously recombining all sorts of rock and roll ingredients — the sass and swagger of Ronnie Spector, the more acid-fried corners of the Nuggets compilations, post-modern interpolations of mid-century exotica music, the cracking snares and sugary urbanity of ESG — while offering moments of vulnerable insight from a life spent in pursuit of creativity.
Morris was a musically precocious child and, after playing in Florida bar bands, moved to New York to chase the dream. Thus began a formative 13-year stint bartending at the beloved Lower East Side dive The Library, which thrust Morris directly into the heart of Manhattan's fertile post-Strokes creative scene. Brian Jonestown Massacre's Anton Newcombe lived upstairs, music journalist Marc Spitz was a regular, and touring acts would come through to carouse after playing Bowery Ballroom. During those moments, Morris yearned to join the rarefied air of the musicians on the other side of the bar.
All the while, Morris pursued her music dreams. "It was pure, 100% DIY. I never took no for an answer. If I didn't have the money, I figured out how to make it happen: Videos, artwork, whatever." After the dissolution of her first band, she recorded 8-track demos and performed solo shows backed by cassette recordings of her own vocal harmonies. Through these shows she connected with longtime producer Jeremy Page. It was kismet.
"I worked with Jeremy for the next 10-plus years," says Morris. "We worked together through some of the most beautiful and hardest life things I've ever gone through." It was a fruitful partnership: Morris signed to Wax Poetics for the release of her "seductive, soulful" (Rolling Stone) 2012 debut Banshee and 2013's Mockingbird, self-released her 2016 EP Babble (reissued earlier this year), and signed to Karma Chief for 2022's "beautifully sung" (MOJO) Nine Lives. She's linked up with a murderer's row of collaborators, including DJ Premier, MF Doom, Ghostface Killah, and David Sitek. Interview Magazine called her "a modern day Janis Joplin," and NPR praised her "lush, moody mix of neo-soul."
Despite her strong professional and personal relationship with Page, Morris knew that she needed to change up the energy for her next project. "When my birthday arrived in April of last year, I had this 'aha' moment. 'Oh shit, I'm halfway to the age of average human life expectancy! I wanna shake myself!' Jeremy and I could write songs with our eyes closed…but if you're chasing evolution then you can't be comfortable."
She connected with Torbitt Schwartz and set about making I Am What I'm Waiting For. Morris was eager to break out of old habits: She started playing guitar again live, realizing that where she saw tics developed to cover up a lack of technical ability, others saw a musician with a distinct and stylish rhythmic signature. She pulled old songs out and reworked them. Less-than-perfect takes were tolerated. She put a moratorium on love songs. As she put it: "I needed to scare myself into growth."
Luckily, the risk paid off. I Am What I'm Waiting For is not only a sophisticated and joyful sonic reinvention, but an unfiltered expression of Morris's idiosyncratic worldview. Take "Special," which takes a bleak approach to coping with fear and statistical unlikelihood. Says Morris: "I hate flying. I have no control over it and that's something that makes me crazy. So something I tell myself when I'm flying a lot is the statistic that your plane has the same chances of crashing as you have winning the lottery. I have never won anything." It's an anthem that revels in contentment, in enjoying the small experiences that texture your life — a salve against self-improvement hacks and motivational influencers infiltrating your feed.
Elsewhere, the bell-laden "Dominoes" turns the mundane conflicts of domesticity and cohabitation into a Ronnettes-worthy rallying cry and the exotica-steeped "All Your Jokes" examines what Morris describes as "the need for vulnerability in a relationship when you have something to lose." There's even the smoky, doo-wop-tinted "Birthday Song," a valiant attempt to expand the birthday song canon.
The almost-title-track "What Are You Waiting For" encapsulates the album's spirit: Stabs of guitar yield to sirens-and-bongo breakdowns as Morris champions realness and self-reliance. It hits like a conscious statement against algorithmic optimization. "When you introduce yourself to someone," says Morris, "you can yada yada the broad strokes of your life. But it's the textures and specific details in life, music or art that gives it meaning." Fittingly, I Am What I'm Waiting For bravely luxuriates in the little details. It's the rare record that doubles as self-portrait, unvarnished yet thrilling because of its imperfections