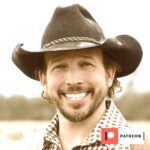 You'll hear a hint of Brazos-bottom dirt in the voice that sets the tone for Cody Joe Hodges' sound. He's an Aggie Veteran, country singer who was raised in the honky-tonks of Central and East-Central Texas.  He now resides in Nashville, Tennessee, performing at Losers Downtown when not on the road traveling America.
As an independent artist, Cody Joe is well on his way, honing his craft as a singer, songwriter, guitar picker & entertainer.  His latest single release, co-written with his wife Jamie – "Make It Through Monday"  is a full band track to the "That Country Sound" album – released in the fall of 2022.  
While his sound is more on the traditional side of country with songs like: "Roll That Way" , "Getting Back to Country" & "God, Family & Country" , he also has songs like "Rush", "Hellbent on Loving You", 'Reasons', and a cover of 'House of the Rising Sun', there's no doubt he has some red dirt influence.